Products
Products - Oil Seals
Oil Seal basically consist of three components i.e. Metal Reinforcement Ring made from CRCA Steel Sheet, Garter Spring made from Galvanized / Stainless Steel Spring wire and sealing element which is made from Nitrile Butadiene Rubber (NBR)  Compound, Polyacrylic (ACM) Compound, Silicone (VMQ) Compound, Fluoroelastomer (FPM) Compound and PTFE (TEFLONE).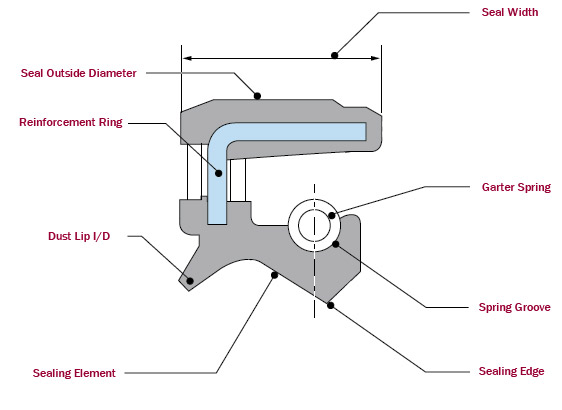 | | |
| --- | --- |
| | We manufacture Oil Seals of different designs which facilitate the users to select the right Seal for the required Application. Click Here for some common designs of Oil Seals : Oil Seal Designs |
| | |
| | Oil Seals are used for various applications in a vehicle. Click Here >> Oil Seal Applications to learn more on applications of an Oil Seal in a vehicle. |
| | |
| | We have modern in-house facilities to manufacture Oil Seals of all sizes and designs. The entire cycle of Oil Seal manufacturing from Rubber Processing, Press Section, Moulding, Finishing, Inspection to packing is in-house. |
| | |
| | We also manufacture Oil Seals with Hydrodynamic Design to incorporate additional sealing patterns on the Sealing Lip. |
| | |
| | For the service to our customers, we also guide them on th proper fitment method of Oil Seals. |
| | |
| | We have a modern quality testing lab with all the required Oil Seal and Rubber Testing Machine including the Endurance Testing Machine. |
| | |
| | Here is a Checklist to avoid Oil Seal Failure. |
Exports
We are making the products as per international quality standards and have been exporting to US, UK and various countries in Europe and Asia.